Deals & Promotions
Save big with the best Car Rental Deals. Browse our on-going and upcoming deals and promotions below.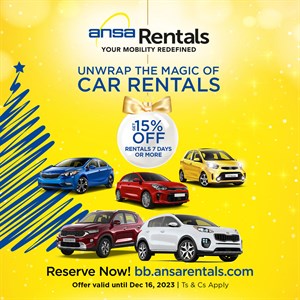 UnWrap this Christmas
UnWrap the magic of Car Rentals with 15% off rentals of 7 days or more.
Learn More
Looking for more attractions? Discover Barbados
Frequently Asked Questions
We are consistently expanding our team, feel free to send an application and resume to [email protected]
Do we accept CDW (collision damage waivers for 3rd party / Credit Card companies (example Expedia, American Express or Travel Guard)?
Yes, we do accept CDW (Collision damage waivers) from 3rd party / Credit Card companies, however, it is the renter's responsibility to provide proof of coverage.
Do you offer airport pickups?
Yes, we have an office at the airport, located to the right of the arrival hall.
What are your payment options?
We only accept credit cards. Below is a list of the type of credits cards we accept:
Visa
MasterCard
American Express
Discovery
What brands vehicles do you have on your fleet?
We currently have the following brands available in our fleet:
Ready to Get Started?
Whether a Business or Personal you can consider us your Mobility Partner.
Safe, Clean and Professional.
Make Reservation Today!